Children's Opticians or Optometrists | Lanarkshire
It is never too early to have your child's eyes examined. We have child friendly picture charts, as well as letters.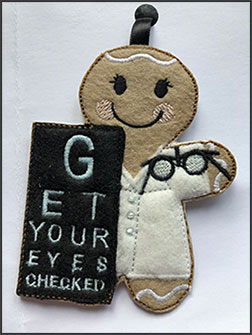 You don't have to be able to read the letters or pictures on the Chart, to have your eyes examined anyway. We can tell how well the eyes are seeing using simple tests and by shining lights and watching how the eyes respond. The Optometrist can easily establish Emmetropia (perfect vision), Hyperopia (long sightedness), Myopia (short sightedness), Astigmatism (oval shaped eyeballs, which causes distortion of your vision), Amblyopia (a lazy eye) or Strabismus (a squint).
It is recommended that Children should have their first eye-test, before they start school, followed by regular checkups, throughout their school years, even if they don't require spectacles. Things can change as they grow and it is important to make sure they have good enough vision to cope at school without putting strain on their eyes.
Whatever the result, you have the reassurance that your child's eyesight is either developing well or requires treatment to aid its development, usually with spectacles or in some cases referral to the Orthoptist for exercises or patching.
---
Children's Spectacles
| | |
| --- | --- |
| | Children's spectacles are supplied FREE of charge through the NHS. |
| | Repairs and replacements are also free, for under 16's. |
| | If their spectacles get broken or lost, you don't have to worry. It won't cost you anything to keep your child seeing well. |
We have a fashionable, colourful range of Children's frames, to suit all age groups, including older children and teenagers. When they outgrow this, there are plenty of small adult frames available free of charge and generous discounts from the other Adult ranges.
---
Spair Pair
The NHS will not supply spare pairs of spectacles. If you want a spare pair of spectacles for your child or even Prescription Sunglasses, we will supply these for only £25 (frame and lenses).